Jeffrey Barton, Barry Foy, Eric Edwards, and Phillip Placak Win Steps to HOPE's 13th Annual Charity Golf Tournament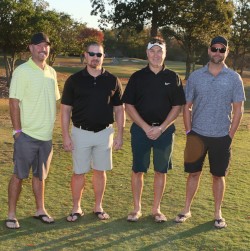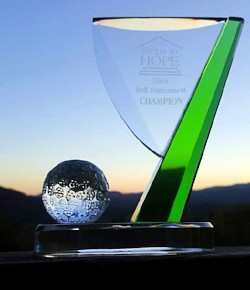 For the first time, Links O'Tryon hosted Steps to HOPE's Annual Golf Tournament on Friday, November 4th.  It was the perfect day for golfing and the 28 teams – 112 players – took to the course for 18 holes of play in this very popular tournament.
Congratulations to the 2016 Steps to HOPE Golf Tournament Champions: Phillip Placak, Jeffery Barton, Eric Edwards, and Barry Foy with an overall low net score of 58 Net 51. Overall Low Gross Score was added as recognized winning team this year and was won by the St. Luke's Hospital foursome made up of Michael Baughman, Don Hofmann, Bill Miller, and Bill Hillhouse with a score of 58. Another new recognition for 2016, the Women's Winners, comprised of Caroline Brown, Ann Gargiulo, GeorgeAnne Murphy, and Bonnie Sakos won with a low net score of 75 Net 59. All of the winners above were awarded cash prizes and, re-vamped for 2016, beautiful etched glass trophies. Second place winners included Art Brown, Joe Boals, Dennis Sakos, and Dave Truitt with a net score of 64 Net 53. This team was presented with cash prizes and rounds of golf at Links O'Tryon. Other contest winners were: Closest to the Pin on #4, Harold Wilson; on #7, Craig Leffew; on #15, Sara Lyter; and Closest to the Line on #18, Sarah Holzem and Brian James. These winners received a Callaway or Wilson golf club or a Callaway golf bag for their accomplishments.
Again this year, a brand new 2016 Ford Focus was sponsored by Stott's Ford as the Hole-in-One prize on #12. One of the very first tee shots rolled right over the cup but, sadly, did not drop. New this year, First Citizens Bank sponsored a $5,000 cash prize for a putting contest. Gordie High won the opportunity to putt and came so very close to winning! He was awarded a golf bag donated by Budweiser of Spartanburg for his effort.
The annual golf tournament is the largest fundraiser for Steps to HOPE, the Columbus-based domestic violence and sexual assault center servicing Western NC and Upstate SC. The $125 player registration fee covered hot breakfast and coffee, a delicious hot grilled lunch, snacks throughout the day, and beverages, and all of the golfers are treated with gifts and door prizes! The player registration fee, minus greens and cart fees, and any donations to Steps to HOPE are tax-deductible as defined by law.
Steps to HOPE is greatly appreciative of the overwhelming support shown by the golfers, volunteers, and businesses who not only offer financial support but make donations of gifts for prizes, food and beverages, time, and their talents, to help ensure the success of this event. Special mention should be given to Duke Energy, Jesse Navarro and Robert Gato of Farm Bureau, Side Street Pizza & Pasta, Bojangles' of WNC, Budweiser of Spartanburg, Tryon Estates, King Law, Lorin Browning, Foothills Amish Furniture, the Spartanburg County Sheriff's Office, and to Marc Brady and the staff at Links O'Tryon.
Golf Tournament Committee members work very hard each year to create a successful, popular event. Many, many thanks to Golf Committee Chair, Cleve Nichols, and to Volunteer Coordinators, Elaine Belk and Rita Nichols. Their hard work and dedication, along with the rest of the Committee, which included Helen Gilbert, Jessica Powell, Larry Wassong, Lee Lindsay, Patty Otto, Paul Sutherland, Roger Newman, and Paula Childers, makes for a fantastic event and is very much appreciated.
A hearty and resounding thank you goes out to Gold Sponsors Dave Hunt of McDonald's/Rutherford Property Management, Jerry Johnson of HomeTrust Banking, and Patty Otto of Hare and Hound Restaurant for their very generous support year after year.